Meet Cameron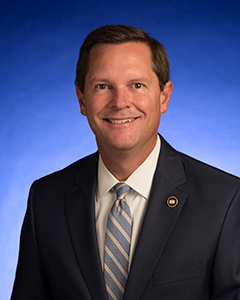 On Friday, August 23, 2019, Cameron Sexton was elected as the 83rd Speaker of the Tennessee House of Representatives. Known as a pragmatic conservative, the fifth generation Tennessean is currently in his fifth term serving the 25th House District, which includes Cumberland and Van Buren Counties, as well as the City of Monterey in Putnam County.
Sexton previously served as House Republican Caucus Chairman for the first half of the 111th General Assembly. As Caucus Chairman, Rep. Sexton expanded and grew conservative initiatives under the House Republican Majority over the past six years. He also chaired the House Health Committee during the 109th and 110th General Assemblies and has served as Majority Whip during the 108th General Assembly.
Throughout his time in the legislature, Sexton has prioritized the health and well-being of Tennessee's citizens. In 2016, former House Speaker Beth Harwell appointed him to serve as Chairman of the 3-Star Healthy Taskforce, which focused on finding an innovative approach to enhance health coverage while being fiscally responsible — a concept that was never before proposed to the Centers for Medicare and Medicaid Services.
Additionally, Sexton was chief architect of the historic and innovative CARE Plan, which was unveiled during the 2019 legislative session by House Republicans. This plan is designed to transform healthcare in Tennessee by creating a patient-centered approach to improve access and the quality of care available to our citizens through Consumerism, increasing Access, improving Rural health systems, and Empowering patients. This will ensure individuals and families can make medical decisions with limited interference from insurance companies or the government.
Rep. Sexton is a member of the sixth class of Leadership Tennessee, and he has been recognized by the International Dyslexia Association for his tireless advocacy on behalf of citizens affected by the learning disorder. Sexton has also previously been named Legislator of the Year by the Biotechnology Industry Organization and the Tennessee Chiropractic Association.
Sexton holds a Bachelor of Arts from the University of Tennessee. He and his wife Lacey live in Crossville and they have three children: Greer, Olivia, and Nathanial. They are members of Central Baptist Church where he is active in the church's youth programs. Sexton is also employed by Cumberland County Bank where he works in Business Development, and he is on the bank's Board of Directors.
Rep. Sexton is actively involved in his community and in civic organizations. He has served as a board member on the Friends of Cumberland Mountain State Park and the Good Samaritan Society. He is also a member of the Crossville Noon Rotary Club, serves on the Relay for Life Committee, and is active in the Fairfield Glade Lions Club.